Oscars 2018 Countdown – A Way with Words
On to two of the more prestigious and often forgotten about awards, Original Screenplay and Adapted Screenplay. That's right, as part of the so-called "major" categories at this famed ceremony, people rarely debate over who is going to win for writing. I get it; it's not as exciting as some of the other races, but the truth is, we wouldn't be talking about most of these films had it not been for the screenwriter's. And usually, a good majority of the films nominated for Best Picture are also nominated within the writing categories, but not this year making my entire argument over the importance of these two awards nearly pointless. Just last year only one of the Best Picture nominees didn't carry a nomination for Best Adapted Screenplay or Best Original Screenplay. In 2017, it's nearly the complete opposite with only five of nine having that same designation. Makes you wonder what will happen this year given just in the last decade, the eventual Best Picture winner also won in its respective category for writing nine times. The only exception was 2011 when "The Artist" won Best Picture, but lost for Best Original Screenplay to Woody Allen and "Midnight in Paris." To date only 16 films have won Oscars for Best Picture and Best Original Screenplay though, meaning most of the history belongs to other writers' and their 42 wins. That's right, in the 79 years of this ceremony, over 53% of the films to win Best Picture also won Best Adapted Screenplay. So while I would like to think that statistic will hold true this year, I just don't see it happening with this list of potential winners.
For those wondering what the difference between Adapted and Original when it comes to writing, it's not as obvious as it seems. Then again, I'm just glad we have two separate categories for writing as the The Golden Globes only has one. Yup, the Hollywood Foreign Press has to somehow fit five films into one category whereas the Academy has 10 films to fit into two categories. May not seem like a big deal, but only four films since 2000 have won both the Golden Globe and Oscar for writing. That tells me that "Three Billboards Outside Ebbing, Missouri" might be on for a long night despite its recent success at the Golden Globes. I know, I hate to say that right out of the box, but I just can't see Martin McDonagh beating the likes of a Jordan Peele or Greta Gerwig, who each have been competing for attention this Oscar season. It was a great story and one that I think people need to pay attention to, but the competition is too tough. Because even if somehow Greta or Jordan get beat, McDonagh will lose to either the writing team for "The Shape of Water" or "The Big Sick." Both were truly one of a kind, but with this being the only nomination for "The Big Sick," I can easily see it going to Guillermo del Toro and Vanessa Taylor for "The Shape of Water." It's tough to go against a fairy tale and this one surely has had people talking. I just wonder if it was too "out there" to win an award like this. Most times, its stories people can relate to that win Original Screenplay, which is why my pick is Greta Gerwig for "Lady Bird," but we'll see what happens in a week.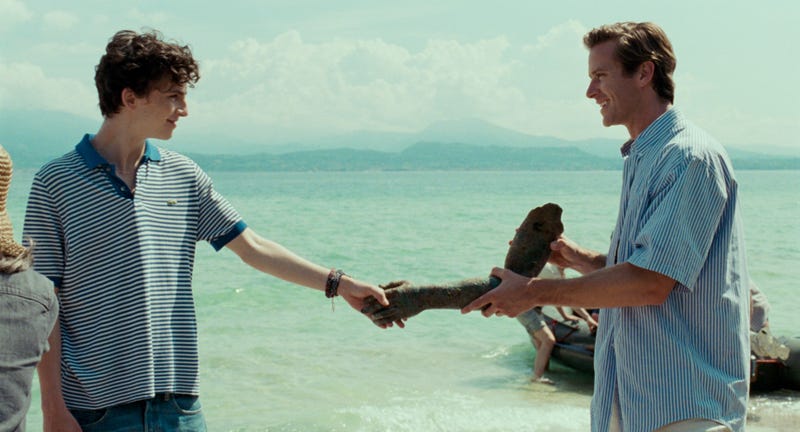 Let's face it though, whether these gifted writers are drafting an original screenplay or adapting one, both play one of the most important roles to moviemaking. So while my hope is that Greta Gerwig pulls off the upset for Original Screenplay with her tiny story with a big heart, I'm overly confident James Ivory wins Best Adapted Screenplay for "Call Me by Your Name." For one, it's the only film also nominated for Best Picture and two, Ivory would be the oldest winner this category has ever seen at 89 years young. It's the one film no one is talking about, but should be given the characters and story involved. And a lot of that is because of Ivory, who transformed the 2007 Andrew Aciman novel into something unexpected, yet honest. It's the fourth overall Academy Award nomination for Ivory, but the first as a writer, as he was previously nominated only as director for "The Remains of the Day (1993)," "Howards End (1992)" and "A Room With a View (1986)." Figure, he  has already picked up wins at the 23rd Critics' Choice Awards, the 70th Writers Guild of America Awards and the 71st British Academy Film Awards (BAFTA's), so hopefully that's a good omen come Oscar Sunday. That said, there were four other nominees for Adapted Screenplay, including Scott Frank, James Mangold and Michael Green, who collaborated on the script for "Logan." First of all, I can't believe it took three writers to put this story together. Second, who cares about this film in the first place. I mean, sure, it was full of action and had a decent story, but so did "Wonder Woman" and it wasn't nominated. As for "Disaster Artist," just being nominated is a win for not only Tommy Wiseau, but for all the fans that pile into theaters each year to watch "The Room," one of the worst movies ever made. So kudos to Scott Neustadler and Michael Eber for getting it this far. The other nominees with no shot are Virgil Williams and Dee Rees, who co-wrote the post WWII drama "Mudbound." Great story and film really, especially from a visual standpoint thanks to cinematographer Rachel Morrison. But it won't win leaving Aaron Sorkin in prime position to steal this award away from Ivory and "Call Me By Your Name. It's almost not fair when Sorkin is on the list, but he did a hell of a job with "Molly's Game," a story that follows a former Olympic skier that runs an underground poker empire. Timing could be right coming off the heals of the Winter Games, but there can only be one winner and this year, chalk will prevail.